#seoxsisters
In May, I went for a 11 days trip to Korea with my sister. As this was our first trip together, we were nervous but mostly excited. Many of our friends ask how did we met so many Korean friends throughout our trip. Well.... some of them we already knew before that.
Before the planning of this trip, I started working at a service office company and there I met my Sales manager who is a Korean working in Singapore. He introduced me to two of his friends living in Seoul and Jeju. When you go overseas, it is always best to know the local people there. They are the ones who know where are the best food, routes and places to go. I have to say we were pretty lucky before and during the trip because we received a lot of their help along the way for our itinerary and even got to meet new people there. This allowed us to understand more of their culture which was something we hope to achieve in the trip. Additionally, our uncle's very good friend live in Busan too. Therefore, he asked his friend to take good care of us when we were there:)
We spent our first 2.5 days in Seoul, another 2.5 days in Busan, 3 days in Jeju and the last 3 days back in Seoul. I am going to cover most of the places I have been to in Seoul and the rest subsequently. This wouldn't be in according to day-to-day itinerary.
Oh and please take look at the video I've made for this trip. It includes all Seoul, Jeju and Busan clips :) Feel free to ask me any
questions
as well!
If I were to describe Seoul, Busan and Jeju.. Seoul would be the place for food, shopping and partying. Busan would be best known for its beaches and seafood!! Jeju would then be the place for sightseeing:)
When we first touch down to Seoul, it was night-time. Our first accommodation was in Hongdae and by the time we reached there, it was near 10pm. We tried to get free wifi to google map ourselves to the hostel but fail. Eventually, we decided to ask two passer-bys for help. They walked us all the way to our accommodation place and even visited a few convenience stores for us to get our internet card. At the end, they even bought us a packet of korean chips as a welcome gift to Korea. Oh god how can anyone be someone be so nice to complete strangers. :') Their kindness kick start to our very first and beautiful night in Seoul.
The first hostel we stayed in Hongdae was called
KW Pencial Hostel
. We didn't love the place because it was crampy, the bed sheets have a bit of stains and the toilet was not exactly very desirable. The hostel is very cheap! We only pay $25 per night so I guess you get what you are pay for. You get the basic necessities and that's that. Anyway, if you are a backpacker and would like to travel light, I'm sure it would be a good place for you to stay. However, if you are someone who are going for leisure trips and would be carrying suitcases around, I would advise you to look for other alternatives. The host there was pretty friendly and was willing to help us with the directions around.
The second accommodation we stayed in was located at Itaewon! I would love to stay at this area again because the ambience at night is really nice. We stayed in
Noel's place
from Airbnb. The place looks a little run down from the outside but we like staying there. The host was very nice as well and even ask us to drink with them at night. If you are looking for an affordable accommodation place, this would be good.
When I came back from Korea, many ask me where I went to get my hair done! It is actually at a store located in Women's University and the salon name is call
Cecica
! (I got my directions and information from this blog) The staff knew English and their service were splendid. They were very reassuring and detailed in their job. They even ask if I want to get my eyebrow colored?? Would you find this service in Singapore?
Not that I know of!
I stepped out of the salon feeling happy and satisfied. I will probably go back there again so you should try out the store if you are thinking of getting your hair done in Seoul.
Before getting our hair done!
Tadaaaaaaa! We are done!
If you are thinking of shopping in Seoul, the few common places you can go are Hongdae, Myeong Dong, Women's university, Bukchon Village and Gangnam Street (MRT area). I only had time to shop at these few and I personally find Gangnam, Bukchon Village and Women's university a pleasant place for affordable shopping. It is harder to get very affordable clothings in Seoul. If you are thinking of getting very affordable skincare products from the Korean brands (Eg. Innisfree and Nature Republic), it is located almost everywhere in Seoul so you don't have to go myeong-dong just to buy their products.


Food in Seoul was fab-da-bu-lousssssssssssssssssss! Even though we drafted a list of places we would go for food, there are times when we pass by somewhere nice, we would just stop by and try. Therefore, you do not actually need to stick to a strict day-by-day food itinerary. You just need to sort out all the food places you wish to go by MRT stations. If you happen to be at the particular station, you can just look through the list or walk around the place itself. I'm pretty sure you will find yourself with a satisfying meal.
One of the must-go food places in our list was Bonjuk porridge at Ehwa Women University. They have many other outlets within Seoul and you will be able to find it via Google. I personally like the texture of their porridge. I think you should it give it a try when you are there. The porridge isn't very cheap though. We tried it before getting our hair done that day.
That very night, we went to Hongdae to try out the Korean stone BBQ for dinner. (You can take a look from this
link
here.) I personally prefer the normal BBQ still but for a change, I recommend you to try this :)
In Seoul, there are many coffee brands like Starbucks, Coffee Beans and the list goes on.. Our most favorite place to go to is Holy's cafe!!!! I personally like their vanilla latte. My sister, on the other hand, love their hot chocolate. hehe. Oh and if you happen to be at their Itaewon outlet, you have to go up to their rooftop. There you can enjoy the mini night view of Itaewon. (Our little secret place to chill)
When you are walking down the streets of Seoul, do try out some of their street food! You will be surprise how good their food can be:)
Besides the food, we went to sign up for an open class for Beginners Hip hop. It was a little bit awkward stepping into a class of dancers who speaks only Korean. As I haven't dance for the longest time, it was hard to keep up. The dancers there were really good with their moves as well. If you wish to sign up for an open class, I will recommend you to try Def Dance Skool. Their one-time fee is pretty affordable. I still enjoyed myself and it was good to exercise judging from the among of sinful food we eat day and night. I wouldn't mind going back for another lesson. hehe


While walking back to the train station after dance that night, we saw CHURROS 101!!!!!! Jeng jengg!!! I really really really love churros and this was a must-eat in my food list. P
lease try it out when you visit Seoul!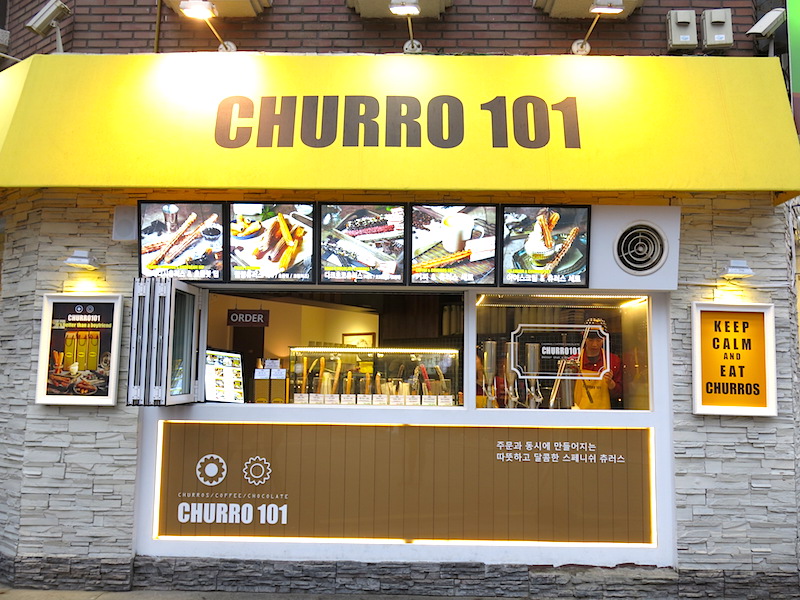 As mention before, my sales manager introduce his friends to us. One of them is call Ping Pong. Initially, we thought that was his real name but it was only a nickname given to him. Ping Pong speaks very good Chinese. He was in-charge of bringing us to Everland!!!!! We spent almost 9 hours at the theme park and only manage to hitch on 4 rides. Therefore, if you are thinking of going for the rides at the theme parks in Seoul, I would recommend you to purchase the express ticket. It is a lot faster and you can play the rides a few more times at least.


Secret snapshot of us during our rollar coastal ride HAHAHA
During the long wait, we got to know Ping Pong better. One thing my sister and I realise about Koreans is many of them know English but are afraid to speak. Oh and when they pronounce some of the words, they end it with a 'si' sound. For example, when we ask Ping pong to pronounce Dickies. He pronounced it as 'Dicki-si'. Ping Pong was not very confident in English so we started teaching him during the wait. It was fun! Ping Pong was also very shy about it. In the midst of waiting he also taught a few Korean words which came in handy after:)
Everland was great! It is better than the theme park, USS in Singapore. The only bad thing was the wait. It was a killer. If you were to visit Seoul, theme park should be in your must-go list!
Remember to get the express tickets unless you don't mind waiting 2 hours for each rides. (It will be the same timing as you queuing for Halloween at Singapore USS.)
With that, I shall end my first post on Seoul here!
Be sure to check out my next post on 'Everything about Seoul: Part 2'. I will be sharing the sightseeing places I went, more food, my traditional Korean photo shoot, clubs I went and also the visit to Seoul national university.
With love,
Patrine Choo